Pro-X
TOSHIBA® | Hybrid Kiosk
Designed to deliver the quick and easy experiences shoppers have come to expect, the Pro-X Hybrid Kiosk is a self-service point of contact with a flexible and compact design that can help retailers reimagine their store strategy and protect investments in technology.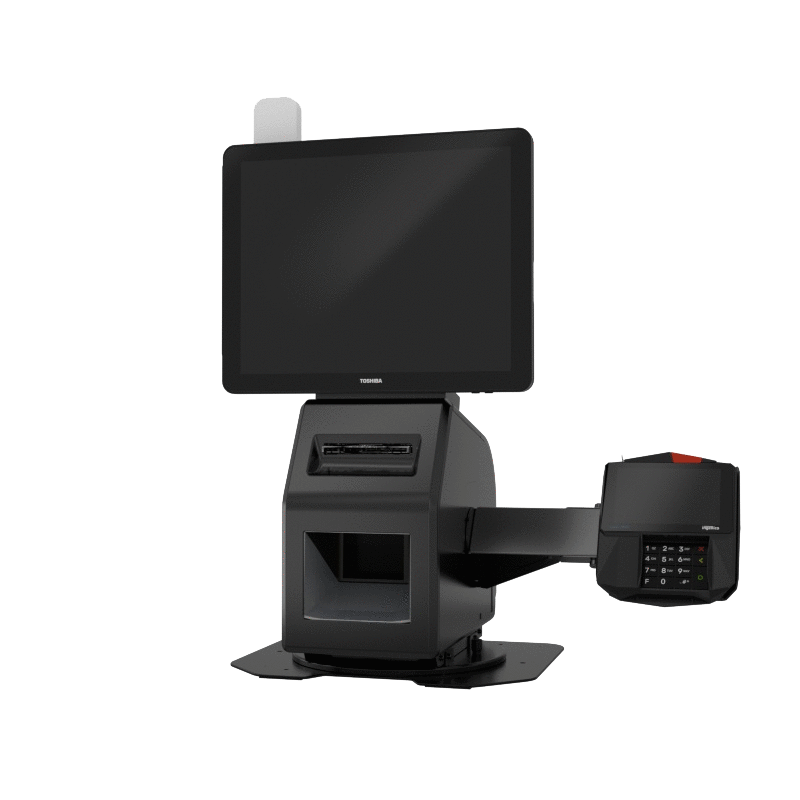 Toshiba Pro-X Hybrid Kiosk
Today's customers want choice, control, privacy and convenience at checkout, plus an available assistant nearby.
How does the assistance work?
With Pro-X, assistants can quickly help customers without leaving their station. To change user interaction, the cashier only needs to rotate the base of the kiosk 180 degrees clockwise. Once assistance is provided, the cashier can rotate the kiosk back into place so the customer can complete the transaction. And because the base rotates, you only need one screen, saving valuable retail space and providing a convenient checkout experience for customers.
• Built-to-order with peripherals to suit your business needs.
• Quickly switch between self-checkout and cashier function.
• Established and accessible points of contact for quick and easy reach.
• Compatible with CHEC, our proven advanced self-service software solution.
• Advanced and proven CHEC compliant self-service software solution.
• Windows-based POS applications.
GREAT EXTENSIBILITY
Expand your ability to pay with innovative digital capabilities that add sophistication to your customer experience.
INVESTMENT PROTECTION
Complement your existing in-store technology with self-service touch points where space is limited.
CUSTOMER EXPERIENCE
Enhance the buyer experience with a variety of payment methods, quick and easy scanning, privacy, and convenience.
INTEGRAL SERVICES
Consultative approach and proven methodologies to support your retail business from initial decision to ongoing optimization.
Follow us
Follow us through our social networks.