Self
Checkout
TOSHIBA® | System 7
Security, completely designed to raise alerts against any inconsistency in the data
Modular design provides flexibility modern and customization options.
Remotely monitor and manage vital data from a mobile app Centralized reporting and remote monitoring intuitively manage self checkout lanes.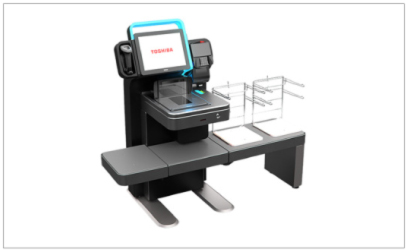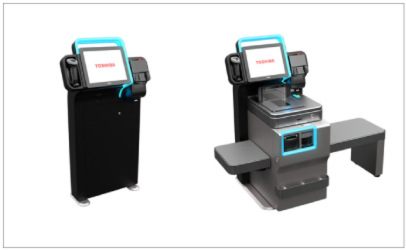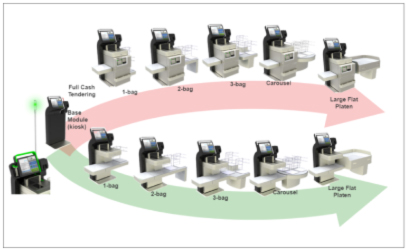 Intelligently Designed
• Intelligence, Optimize performance and reduce interventions by interpreting shopper behavior and self-correcting common mistakes.
• Visual buyer support, includes LED lighting, audio indicators, scan-to-bag location, and accessibility mode options for ease of use Standard ADA, designed for use by people with disabilities.
• No viruses, no hackers. Thanks to the OS4690 operating system, proven reliability and robustness is guaranteed.
• Store Operation is one more POS, savings in training and administration. Modular platform that allows to exchange or incorporate modules such as cash or bagging. strong investment protection and flexibility.
• Toshiba's Self Checkout solution has a centralized administrator - eBoss, generating total solution savings per store.
• Remote administration for hardware support (RMA / RSMP) BP knows the customer's business, the POS and developed the first version of self-service.
• Toshiba's Self Checkout solution is open to integrate with different point of sale applications.
• Possibility of administration of the equipment within the store , POS Terminals and Self Checkout with the Mobile Operations Manager (MOM *).
• PAS, Ability to offer our hardware support service based on prediction and customer patterns with AI.
• Fewer interventions. Our benchmark for interventions is 20% of transactions that require assistance, competition is usually in the 50 range % +
Headquarters
Santiago - Chile
room 1305 Fernando Lazcano str. San Miguel
call +56-2-2713-2400
email [email protected]
markunread_mailbox Zip code 8910089
International Operations
RHISCOM LLC Miami - USA
room 1200 Brickell Ave, suite 1808. Miami, FL 33131
México DF
room 146 Gabriel Mancera str. Planta Alta, Col. Del Valle Norte, Alcaldía Benito Juarez
email [email protected]
markunread_mailbox Zip code 03103.
Costa Rica
room Centro Corporativo Plaza Roble, Building Las Terrazas 5 floor
call +506-2201-1566
email [email protected]
Bogota - Colombia
room 93 # 13-24 Str. Building QBO, floor 5
call +57-1-667-2670
email [email protected]
Lima - Perú
room 138 Las Castañitas Urbanización El Palomar San Isidro str.
call +01-4221870
email [email protected]
Follow us
Follow us through our social networks.